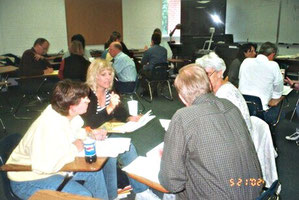 Seven Principles Of Good Undergraduate Education
SEVEN PRINCIPLES FOR GOOD PRACTICE IN UNDERGRADUATE EDUCATION By Arthur W. Chickering and Zelda F. GamsonReprinted with permission.
http://www.hcc.hawaii.edu/intranet/committees/FacDevCom/guidebk/teachtip/7princip.htm
By Arthur W. Chickering and Zelda F. Gamson
From The American Association for Higher Education Bulletin, March 1987http://honolulu.hawaii.edu/intranet/committees/FacDevCom/guidebk/teachtip/7princip.htm  http://learningcommons.evergreen.edu/pdf/fall1987.pdf  
7 principles with suggestions Grans Rapids Community College
http://web.grcc.cc.mi.us/ctl/7princip.htm 
APPLYING THE SEVEN PRINCIPLES FOR GOOD PRACTICE IN UNDERGRADUATE EDUCATION

http://www.msu.edu/user/coddejos/seven.htm
IMPLEMENTING THE SEVEN PRINCIPLES: Technology as Lever    by Arthur W. Chickering and Stephen C. Ehrmann         http://www.tltgroup.org/programs/seven.html 
APPLYING THE SEVEN PRINCIPLES FOR GOOD PRACTICE IN UNDERGRADUATE EDUCATION

        

Joseph R. Codde,

    


Wingspread Journal article http://www.johnsonfdn.org/Publications/ConferenceReports/SevenPrinciples/SevenPrinciples_pdf.pdf  
Cooperative learning Web Sites

Organizations and Institutions
Sheridan College School of Community Services
e-mail: susan.pratten@sheridanc.on.ca
http://www.sheridanc.on.ca/coop_learn/cooplrn.htm
From: "Emma D. Stellman" <stemma@forum.swarthmore.edu>
COLLABORATIVE LEARNING: AN ACTIVE DISCUSSION
http://forum.swarthmore.edu/discussions/co-learn/
Explanation by Consumer Guide of Education department
http://www.ed.gov/pubs/OR/ConsumerGuides/cooplear.html
Teaching and Learning Methods and Strategies.
http://www.u.arizona.edu:80/ic/edtech/strategy.html
Cooperative Learning Classroom Project ..
http://www.media.mit.edu/~andyd/mindset/design/clc.html
Cooperative Learning Structures
http://www.holton.k12.ks.us/staff/abeam/ah/coop/cooperative.htm

The NISE College Level One Team, based at the University of Wisconsin-Madison, is a nationwide community of post-secondary science, mathematics, engineering, and technology (SMET) faculty, education researchers, faculty developers, and students  Collaborative Learning (CL) encourages active student  participation in the learning process.  http://www.wcer.wisc.edu/nise/cl1/CL/clhome.asp

Southwest Educational Development laboratory http://www.sedl.org/scimath/compass/v01n02/

Individual's sites
Laura Candler's web site - Cooperative learning structures (following the Kagan approach) http://home.att.net/~clnetwork/clfiles.htm also http://home.att.net/~teaching/
George M Jacobs SEAMEO Regional Language Centre
WWW: www.georgejacobs.net
Richard Felder
http://www4.ncsu.edu/unity/lockers/users/f/felder/public/   
SusanG2@aol.com Adult learner. It is called E-mail projects page.
http://www.otan.dni.us/webfarm/emailproject/email.htm


Articles on cooperative learning
Cooperative Learning Approach to Teaching Social Issues on Computer
http://www.engr.csulb.edu/~jewett/social/cql96.html
Forum Winter 1996 p4-5 Labyrinth-Forum Winter 1996 -- Reading"Cooperatively"
http://hakatai.mcli.dist.maricopa.edu/labyforum/Win96/win96F4.html
Seeler, D.C., Turnwald, G.H. and Bull, K.S. (no date). From Teachingto Learning: Part III. Lectures and Approaches to Active Learning.
http://scholar.lib.vt.edu/ejournals/JVME/V21-1/Seeler1.html
Woods, Donald R. (1995). Problem-based Learning, especially in thecontext of large classes.
http://chemeng.mcmaster.ca/pbl/pbl.htm
THE EFFECTS OF COOPERATIVE LEARNING METHODS ON
ACHIEVEMENT, RETENTION, AND ATTI
http://scholar.lib.vt.edu/ejournals/JVTE/v13n2/Abu.html
Cooperative Learning: Increasing College Faculty Instructional Productivity http://www.ntlf.com/html/lib/bib/92-2dig.htm  
Journal of Statistics Education,   Garfield   .
http://www.amstat.org/publications/jse/v1n1/garfield.html
http://www.arp.sprnet.org/Admin/supt/collab2.htm

What Is the Collaborative Classroom? M.B. Tinzmann, B.F. Jones, T.F. Fennimore, J. Bakker, C. Fine, and J. Pierce
NCREL, Oak Brook, 1990

Miscellaneous sites
Learning Theories and Models of Teaching
http://www.cloudnet.com/%7Eedrbsass/edlea.htm
Explorations in Learning & Instruction: The Theory Into Practice Database
http://www.gwu.edu/~tip/index.html
Education World: Curriculum: Cooperative Learning Saves the Day!-- One Teacher's Story
http://www.education-world.com/a_curr/curr287a.shtml
The Jigsaw Classroom: A Cooperative Learning Technique-                                  http://www.jigsaw.org/  
An overview of cooperative learning excerpted from a book: Biehler/Snowman, Psychology Applied to Teaching, 8/e, 1997, Hougton Mifflin Co. (Chapters 4 & 11). http://college.hmco.com/education/pbl/tc/coop.html
http://www.prainbow.com/cld/cldp.html  
http://aw.colostate.edu/links/pop5c.htm  
http://www.arp.sprnet.org/Admin/supt/collab2.htm  
http://www.sedl.org/scimath/compass/v01n02/  
http://id-www.ucsb.edu/IC/Resources/Collab-L/CL_Index.html
http://www.libraryinstruction.com/active.html
http://clte.asu.edu/active/main.htm
WAC web Pages


 Wright State University's Writing Across the Curriculum (WAC) program   http://www.wright.edu/academics/wac/  
Writing and Reading across the Curriculum Resources. Staff Development Workshops. Writing is Learning: Strategies for Math,.
http://reading.indiana.edu  
Writing Across the Curriculum Links
http://www.umsl.edu/~klein/WAC_links.html  
The George Mason University Writing Across the Curriculum (WAC) Page.
http://www.gmu.edu/departments/wac/
Purdue University Wac web site
http://owl.english.purdue.edu/
University of Illinois Urbana-Champaign                             http://www.english.uiuc.edu/cws/wworkshop/
Landmark Essays on Writing Across the Curriculum
 By Charles Bazerman, David R. Russell    http://www.google.com/books?id=Dz0axdmEp20C&dq=Writing+Across+the+Curriculum-++WAC&printsec=frontcover&source=in#PPR11,M1  
PBL-Problem Based Learning sites -
School of Medicine Problem-Based Learning Home Page
PBL Coordinator: Dr. Hugh Pross, Faculty of Health Sciences,
Queen's University at Kingston, Ontario, Canada, K7L 3N6.
http://meds.queensu.ca/medicine/pbl/pblhome.htm
The web page for the Problem-Based Learning Initiative at Southern
Illinois University School of Medicine has been redesigned, updated and moved.
Problem Based Learning program at Samford University in Birmingham,
Alabama. Faculty are working hard to foster group efforts at solving
complex problems. http://www.samford.edu/pubs.pbl 
Constructivist Learning Design  by George W. Gagnon, Jr. and Michelle CollayThis paper represents a collaborative effort of two teacher educators to articulate a constructivistapproach to "designing for learning" rather than planning for teaching. See our Constructivist LearningDesign Notes for a simplified version. Ongoing collaborative research with teachers is presented inour Constructivist Learning Design Study.
http://www.prainbow.com/cld/cldp.html
University of Deleware PBL: Problem-Based Learning
UD PBL articles and books, UD PBL in the news, Sample PBL problems, UD PBL courses and syllabihttp://www.udel.edu/pbl/
UD PBL: Dan Tries Problem-Based Learning: A Case Study
Dan Tries Problem-Based Learning: A Case Study
Harold B. White, III, Department of Chemistry and Biochemistry,University of Delaware,
Newark, DE 19716, halwhite@udel.edu
http://www.udel.edu/pbl/dancase3.html
For samples of PBL syllabi in the sciences visit these sites:
http://www.udel.edu/pbl/courses.html
 
Advances in Physiology Education -- Abstracts: Mierson 275 (6): S16
Vol. 275, Issue 6, S16-S27, 12-15-98 A problem-based learning course in physiology for undergraduate and graduate basic science students. by Sheella Mierson
http://advan.physiology.org/cgi/content/abstract/275/6/S16
The National Center for Case Study Teaching in Science also includes PBL resources.
 http://ublib.buffalo.edu/libraries/projects/cases/webcase.htm
Project On The Effectiveness Of Problem Based Learning (PEPBL)
http://www.hebes.mdx.ac.uk/teaching/Research/PEPBL/index.htm
Univ. of Cal-Irvine PBL Faculty Institute site.  They have a sizable Hewlett
grant for their PBL activities.
http://www.pbl.uci.edu/grantoverview.html  
Maricopa Community College.
http://www.mcli.dist.maricopa.edu/pbl/index.html
project-based learning, but if you do, check out:
http://pblmm.k12.ca.us